This year
decorating for Christmas
has been a challenge of sorts....
not long ago our living room was filled with scaffolding for the installation of a new fireplace which is yet to be finished.....
details you know, simple details.
Oh yah... that caused some moments of
panic
around here...
along with a decision to hold off on any further work until the new year.
BUT
, it did cause me to move around the house and decorate in stages.
Interesting approach.
I know that some people do that as a matter of practice but I am usually the
pull out all the boxes and put it up in a day kinda person...
natural
elements around our home this year....
I am a lover of the red dogwood branch....bunches of them here and there,
along with paperwhites and amaryllis bulbs.
and of course, I like to make my own little decorations which this year were simple stars that
can hang from branches in the kitchen....
as well as branches in the diningroom.
A handful of boughs on the bathroom sliding door.
all add little touches of Christmas around here...
and sometimes I will move some paper whites into the livingroom
with the simple red velvet cushion on the couch or....
a new tradition that will probably compel me to make a christmas ball wreath for next year.
One of my favourites is our pantry santa....
a red velvet curtain that hides the washer and dryer in the pantry off the kitchen.
In the diningroom, we display our cherished wooden santas that my sister carved...
they hold a place of honour on our dining room table.
and my only purchase this year was this lantern that will burn many a candle over the holiday,
which means with the cost of the tree, paper for star-making and the lantern it was all done for around 50$.....
makes me smile.
Best Wishes everyone for a healthy, happy and safe holiday....
I am linking up to the following:
Feathered Nest Friday
at French Country Cottage
Beyond the Picket Fence: Under 100$ Linky Party
No Minimalist Here: Open House Party
Jennifer Rizzo at the Holiday Housewalk Linky Party
and
Inspired By Charm: 12 Days of Christmas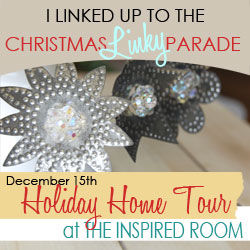 À Bientôt